Younited has been working on many real estate projects in the past. The local real estate industry has been growing for years now and the growth has not slowed down yet.

Surprisingly, in most cases, when it comes to marketing, most local residential projects didn't go further than using the banner on the construction site fence and setting up Njuškalo ads.
To be honest, we can't even say that is marketing. Those are just a few things necessary for the regular sales process to take place.
Local real estate market
Why is marketing in real estate often so weak? The demand is high, so are the prices. The investors enjoy their position of power. Marketing budgets are still being perceived as costs, not investments. "Why would I invest in advertising if the whole project will be sold out without any advertising?"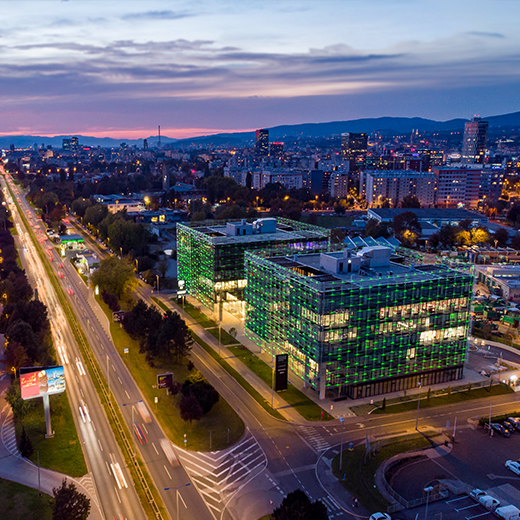 Building long term value
We think differently. Marketers think differently. We think of customers. They make one of the most important decisions of their lives when they are buying apartments and houses. They want to get essential information about their potential purchase. They want the seller to take care of them.
We also think of aspects such as brand promise, brand value, customer experience, long-term relationship, customer satisfaction, customer base building, etc.
Market trends will change, people will change, the mentality will change. When it happens, brands that do it right will keep doing the same. Others won't.
What do we do different?
We give identity to the project. We don't name it Project "Investor - street". That is not how you build trust or position yourself. Just by naming it differently, we bring emotion and make it unique. Then we develop a visual identity with lots of branded materials.

Step 2 – website. Instead of having a bottleneck in the sales department and delays in responding to potential customers' inquiries, we provide all essential information on the project's website. And we do it in a clear, concise way. Textually and visually. Optimized for desktop, mobile, and all other devices. With a short loading time.
When the website is live, it is time to bring people to it. Simultaneously we launch the offline campaign to inform the general public about the new project. We use print ads, PR articles, out-of-home advertising and specialized portals. Online we perfom multi-channel campaigns with a focus on Google Ads and social media ads.
Using advanced targeting methods, thoughtful creative and marketing funnel advertising strategy we make sure every potential customer gets the right message in the right moment on the right channel.
All brand touching points must be in line with each other. Email communication, phone calls, sales office, construction site - everything is branded and aligned with the rest of the marketing mix.

When the pre-sale campaign is completed and the buyer has paid the deposit for the chosen apartment – it still isn't over.
We keep on nurturing customers via direct communication, but also through newsletters and social media. This is the key to success because that is when the investor proves he cares, and also that is exactly when the trust is gained and maintained. If there will ever be a repeat purchase, this moment will most definitely play a role in it.

A great example of maintaining a relationship with customers even in after-sales is project Meandar. Residents moved into their new homes in 2018. On the day of moving in, they got fancy branded boxes with all the important documents and other presents in them.

Younited was also awarded for that project with MIXX award. See the case study video!
Another great example of a successful residential project and our second MIXX award for the residential project is Green Side Residence. Check out the website - greensideresidence.hr.